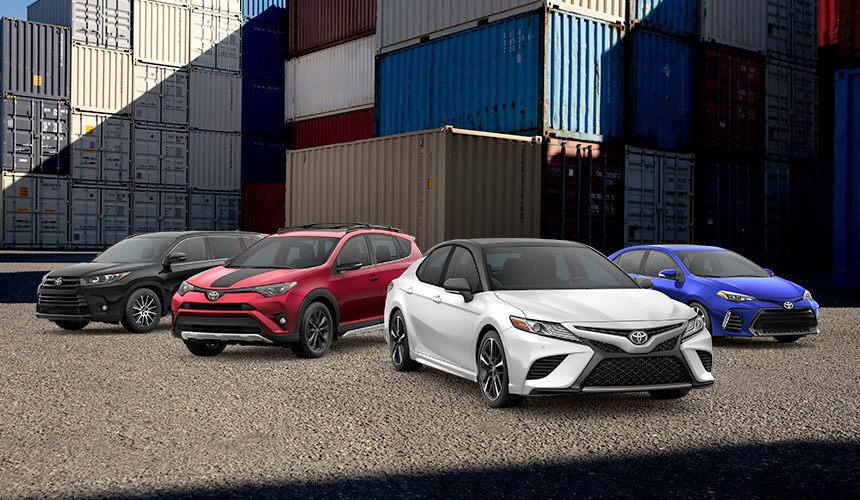 Toyota 4Runner
The Toyota 4Runner blends off-road capability with great new styling and innovative safety. This modern SUV has it all from its rugged and functional exterior design to high quality craftsmanship on the interior. Featuring modern safety features, it is as high-tech as it is practical. 
Toyota Avalon
Outfitted with an array of performance, safety, and connectivity technologies, the Toyota Avalon is sedan that makes getting where you want to go in style easy. This vehicle truly embodies the term "smart," from its design to its safety features.
Toyota Camry
Exemplifying excellence with high standards in safety, design, and technology, the Toyota Camry is a sedan that impresses drivers and auto experts alike. It comes equipped with new technologies that create a more driver-centric cockpit.  
Toyota Corolla
The Toyota 
Corolla
 offers reliable, fuel-efficient performance that you can depend upon. Equipped with state-of-the-art safety features, gives you a comfortable driving experience that ensures safety and performance.
Toyota Highlander
The Toyota highlander is a stylish SUV that aims for on-road driving comfort without sacrificing power and efficiency.
Toyota Prius
Fuel efficient thanks to its hybrid electric capabilities, the Toyota Prius is perfect for those looking to save a little on gas while not losing out on style. Equipped with modern safety features and boasting a smooth, comfortable ride, this sedan excels at it all. 
Toyota RAV4
The perfect car for those seeking and adventure and wishing to bring everyone along for the ride. The Toyota RAV4 has athletic styling, ample space, and modern safety features to get you to whatever destination you want to reach. 
Toyota Sienna
Infused with the latest technology and safety features, the Toyota Sienna is the perfect vehicle for cruising around town or going about your day-to-day life. It's a great SUV for families or those looking for a little extra space.
Toyota Tacoma
Whether you're on your everyday commute or exploring new roads, the Toyota Tacoma is the perfect car for any adventure. Featuring a wide stance and tall height, this truck is great at overcoming difficult terrain. Equipped with a pre-collision system on every vehicle, the Tacoma will keep you safe while you explore.
Toyota Tundra
Available in a wide variety of trims and grades that are tailored to your taste, the Toyota Tundra is a great full-size truck for those that are looking to get a little bit more power.
Toyota Model Lineup
Toyota offers a lineup of vehicles to match every preference and lifestyle. Our cars feature the latest in safety and modern technology combined with sleek styling and a comfortable driving experience.
Come into Fox Toyota today and see what vehicle is the best fit for you.